The Conservation Society
New Braunfels was founded March 21, 1845 by Prince Carl of Solms-Braunfels with three shiploads of 439 people.  He chose this place because of the Comal Springs, third largest in the U.S.  That was the beginning of a mass migration to the U.S. from Germany and Ireland.  In just 15 years 30,000 Germans migrated to Texas settling a belt 100 miles east and west into the hill country.
Facility Rental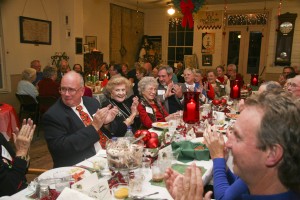 Rent one of several venues at Conservation Plaza for parties, reunions, holidays and of course, weddings. Celebrations can be held at the Forke Store and the Rose Garden and Gazebo. Either can accommodate up to 100 people.
Call or e-mail us the next time you need a facility to hold your wedding, reception, banquet, or party. We offer reasonable rates and have several facilities to choose from.
Photo: Christmas party at Forke Store
Other Conservation Plaza sites are available. Please visit the Wedding page for more information on holding your wedding at NBCS.

Freiheit School Rentals
Maximum occupancy = 50 people
$75.00 for 5 hours
Minimum of 5 hours, each additional hour is $25.00
Gerlich-Wagenfuehr Bed & Breakfast (downtown)
$100.00 plus tax ($13.00) for 1 couple
3 adults – $120.00 plus tax ($15.60)
4 adults – $140.00 plus tax ($18.20)
Terms & conditions:
All fees and a signed rental agreement are due 3 weeks prior to the event.
Rentals require a $200 security/cleaning deposit which will be returned upon approved inspection of the property after each event.
No refund for inclement weather.
Rental includes time needed for set up and clean up.
All events must end by 11:00 pm.
Set up/take down service is available with prior arrangements with the caretaker.
Please call the New Braunfels Conservation Society at 830-629-2943 for more information.